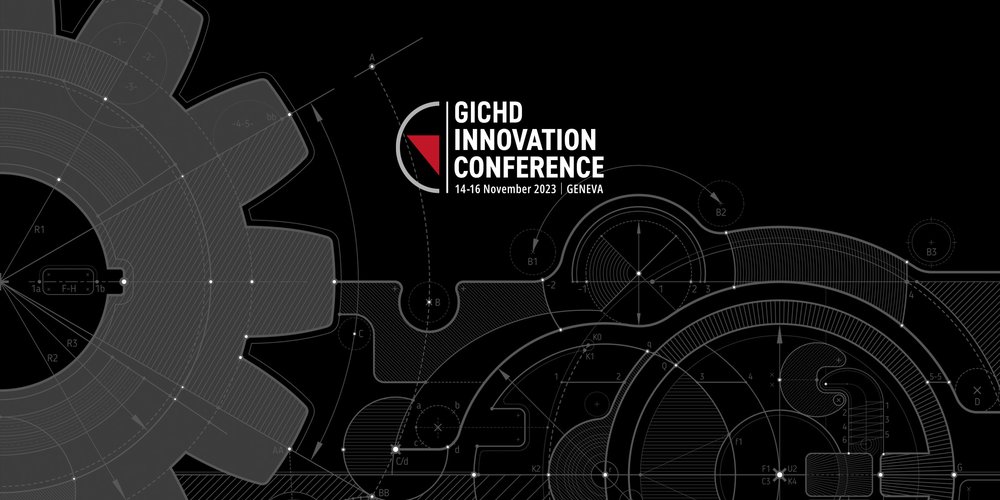 The GICHD Innovation Conference 2023, scheduled to take place from 14 to 16 of November 2023, in Geneva, will showcase new technologies and provide a unique platform to discuss current demand-driven Explosive Ordnance Risk Reduction challenges relating to mine action and ammunition management activities.
When: 14th - 16th November 2023
Format: In-person
How to participate (The expression of interest form is closed)
The GICHD invites stakeholders active in EO risk reduction and externally interested practitioners – specifically, national authorities, international and national operators, national and international organisations, donors, equipment manufacturers, academia, research institutions and other experts – to debate and discuss solutions to enhanced EO risk reduction innovation capabilities.
The GICHD welcomes a diverse participation and encourage women and individuals from EO affected countries to express their interest in attending the Conference.
The Innovation Conference expression of interest form was closed on 31st July 2023.
The conference team will get back to you at the latest by 1st September to inform you about the status of your expression of interest. If you are selected to participate in the Conference, we will provide you with additional information to support any logistical requirements for travel.
Further information
GICHD Innovation Conference 2023 – The Rationale
For any other queries, please contact the GICHD: innovation(at)gichd.org
Innovation Conference Themes
Learn more about the Innovation Conference 2023 upcoming themes. This section will be updated frequently, so stay tuned for more information about the programme.
Theme 1: Innovative Finance
Over the last decade funding to mine action has remained broadly static between $500 to $600 million per annum, with peaks around new conflicts that are short-lived. 70% of international funding comes from five donors and 50% of it goes to just five affected states. While national contributions have increased in the last five years they still account for less than 10% of the total funding to the sector. In this context of funding shortfalls and substantial remaining work to complete various convention-related obligations, the session Innovative Finance in Mine Action seeks to dive deeper into existing innovative finance models and how these may be applied to the mine action sector.
Through innovative finance mechanisms, affected states can have the opportunity to mobilise blended finance mechanisms to help fund their national strategies and their own national capacity sustainably, for example using inward and domestic investment strategies. Donors can support these efforts by facilitating the development of blended finance mechanisms, leveraging more than they could through bilateral funding and providing stable and more predictable funding streams.
Accordingly, this session will seek to showcase existing innovative finance models as well as how they have successfully been applied in other sectors, convey the limitations of the models put forward and facilitate a discussion on how stakeholders can concretely explore innovative financing options for mine action.
Financial figures source: 2022 Landmine Monitor Report
Theme 2: Harnessing Social and Behaviour Change Communication (SBCC)
Social and Behaviour Change Communication (SBCC) refers to the strategic use of communication approaches to promote changes in knowledge, attitudes, norms, beliefs, and behaviours. It is a systematic and interactive process grounded in theory and based on evidence. This approach has been widely used in the public health and communications sectors for years, but only recently has the adoption of SBCC in EORE programming gained traction. Today, it is widely acknowledged that, if correctly implemented, SBCC can result in more evidence-based, effective, and efficient EORE. As such, sharing experiences and developing knowledge on SBCC has been widely requested within the EORE sector.
Accordingly, this session will build on the existing momentum for SBCC. Bringing together a panel of SBCC experts, the session will, through change stories and facilitated discussions, showcase how SBCC is transforming EORE as well as explore how SBCC can be applied to other areas of Explosive Ordnance Risk Reduction (EORR). By the end of the session, it is hoped that participants will be convinced of the value and potential SBCC can bring to EORR and invest in SBCC in the future.
Theme 3: Technology Prioritisation: A Needs-based Approach
Equipment manufacturers, research organizations and mine action organizations, all of them essential for any technological advance don't always individually pursue the same objectives. Equipment manufacturers pursue revenues. Research organizations pursue the advance of science and knowledge. Mine action organizations pursue efficient operational results. All these three individual objectives need to be balanced in order to sustain the effective implementation of new tools and technologies, but often, we find imbalances.
We have seen in the recent past many technology-driven approaches to new tools/technologies, which often miss to deliver according to expectations, which generates new technologies fatigue among many stakeholders in the Explosive Ordnance Risk Reduction (EORR) sectors. Associated to this, we find often inefficient use of the limited funding available for technological research within the sector, as well as growing difficulties to establish collaborative partnerships among research organizations, equipment manufacturers, and mine action organisations, which are essential for the effective development and implementation of new tools/technologies.
This session will seek to discuss how new technologies could impact the EORR sectors and which building blocks are needed to enable needs-based approaches to technological research within the sector, leading to the effective uptake of new innovative tools/methodologies, according to their potential impact. A diverse panel bringing together the perspectives of varied stakeholders (mine action organisations, equipment manufacturers, research and technology organizations), as well as expertise from other sectors, will facilitate the debate.
Theme 4: Connecting the dots between Innovation and Standards
Innovation is an iterative process that gains momentum whenever a problem or shortfall is identified, prompting attempts to find solutions. These attempts may take the form of policies, methodologies, processes, technologies, or other strategies. The resulting innovation can come in different ways such as continual improvement, refining the existing rules of the game, or disruptive innovation, completely changing the rules. When appropriately conceptualised and aligned with the needs, both approaches can wield significant power.
This session aims to explore how standards can play a pivotal role to facilitate the uptake of innovative tools and methodologies, unlocking their full potential. A diverse panel will bring together stakeholders from EO risk reduction, including national authorities, operators, manufacturers, as well as research and technology organisations. Additionally, experts from outside mine action and ammunition management will contribute their perspectives, enriching the discussion and shedding light on how EO risk reduction can effectively foster the uptake of emerging technologies and methodologies.
Theme 5: Agricultural Land Release in Ukraine: Outcome-based Solutions
Ukraine, considered a breadbasket of the world, is a major producer and exporter of agricultural products. However, the stark increase in potential explosive ordnance contamination in farmlands poses a direct threat to farmers (accidents), and to Ukraine's economy, as well as indirectly impacts global food supply chains. The resulting surge in food prices worldwide has raised concerns about a possible food crisis, particularly in developing and least developed countries.
Recognising the urgency of the situation, the international community, in collaboration with stakeholders engaged in explosive ordnance risk reduction, has acknowledged the need to take swift action. This rapid response has led to a swift increase in capacity and funding but more needed to address the current challenges. A sustainable, results-focused approach requires rethinking processes, procedures, and technologies to improve the quality of the efforts, in addition to the quantity.
Restoring the safe access to Ukraine's agricultural land is vital for not only to protect civilians from the dangers of EO, but also for the country's economic sustainability and for global food security. Join us at the upcoming conference session to explore practical solutions and pave the way for a sustainable future.
Theme 6: Advancing ammunition management through innovative approaches, tools and technologies
Understanding innovation in the context of ammunition management is crucial, especially in the evolving landscape at international level. This session aims to facilitate a discussion on the meaning of innovation in the context of ammunition management and to showcase existing and potential innovative approaches, tools, and technological advancements. A diverse panel of experts will share insights on high-tech and low-tech solutions, the limitations of these solutions, and how they can be leveraged to address the challenges posed by inadequately managed conventional ammunition.
The session will look at innovation in a lens of the developments at international level through the work of the UN Open-ended Working Group (OEWG) on Conventional Ammunition. Addressing the risks of inadequate conventional ammunition management – namely diversion to illicit markets and unplanned explosions at munition sites - requires innovative solutions to ensure safe, secure, and sustainable policies and practices. Earlier this year, the OEWG completed its work developing a set of political commitments as a new global framework to address existing gaps in through-life ammunition management.
The final report of the OEWG contains a new international instrument, The Global Framework for Through-life Conventional Ammunition Management, which was negotiated in 2022 and 2023. Endorsement by the UN General Assembly at its 78th session would fill the gap of a dedicated regulatory instrument on conventional ammunition at the international level.
The OEWG report highlights innovation as a key element for advancing adequate through-life management of conventional ammunition, not only limiting it to technological development but recognising that in some contexts low-tech measures would be more useful, and potentially more impactful and sustainable.