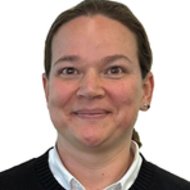 STANDARDS AND OPERATIONS
Lina CASTILLO MÉNDEZ joined GICHD as an Advisor for the Standards and Operations Division in May 2023. She provides advice and support to the capacity development of national authorities and other mine action partners in developing efficient and effective operational methodologies. She also supports training and research to promote operational efficiency in mine action programmes.
Lina CASTILLO MÉNDEZ started working in mine action when she joined the Colombian NMAA in 2010 as an Operations Planning Advisor. In 2011 she joined GICHD as a Mine Action Programme Officer in the Standards Section for a year. Afterwards, Lina returned to Colombia to work with the Organization of American States in its MA Mission as Chief of the Monitoring Body. In 2017 she joined UNMAS Colombia as an Operations and Training Officer, then became Quality Management Coordinator and finally, she oversaw all project's implementation as Head of Projects Unit.
Lina CASTILLO MÉNDEZ is an Industrial Engineer from Universidad de La Sabana, a Certified Business from James Madison University, and is IMAS EOD Level 3 qualified.
Division

STANDARDS AND OPERATIONS

Unit

Operational Management

E-mail

l.castillo-mendez@gichd.org