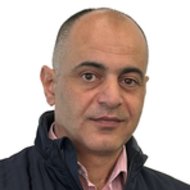 STANDARDS AND OPERATIONS
Abdullah Alkhasawneh joined the GICHD in May 2023 as an Advisor, Operations Management. His work is primarily to provides advice and support to the capacity development of national authorities and other mine action partners in developing efficient and effective operational methodologies. In this capacity, he designs, plans, implements, and supervises the GICHD's training, support or research activities that promote operational efficiency in mine action programmes.
Prior to joining the GICHD, Abdullah Alkhasawneh worked for eight years in mine action with The HALO Trust and Humanity & Inclusion (HI), managing operations and programmes in Syria, Iraq, Somalia, and Yemen.
Abdullah Alkhasawneh is a former Lt Colonel in the Jordan Armed Forces, has over 20 years of experience, during which he received extensive training and gained experience in demining and EOD/IEDD. Abdullah holds a bachelor's degree in Mathematics from Mut'ah university in Jordan. He is an IMAS EOD Level 3+ qualified.
Division

STANDARDS AND OPERATIONS

Unit

Operational Management

E-mail

a.alkhasawneh@gichd.org