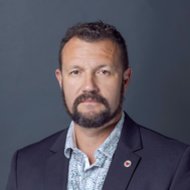 Ammunition management advisory team
Angelo BERNARD joined the GICHD in August 2022. As Technical Advisor within the Ammunition Management Advisory Team (AMAT), he provides rapid technical assistance to national authorities in the safe and secure weapons and ammunition management, including through the framework of the UN SaferGuard quick-response mechanism. He further conducts longer-term technical support and outreach to national authorities, donors and relevant organisations on IATG and MOSAIC compliant weapons and ammunition stockpile management systems and procedures.
Prior to joining the GICHD, after numerous military postings in Francophone Africa and elsewhere Angelo Bernard worked for 11 years with the Mines Advisory Group (MAG) as a Senior Technical Advisor part of their Weapons and Ammunition Management (WAM) programme. Angelo started his career with the French Army in the Engineering Regiment and Special Forces, he is certified to an advanced level in technical military engineering.
Angelo is IMAS EOD level 3+ operator and supervisor and a UN SaferGuard validated expert in the IATG. He speaks French and English.
Organisation

Geneva International Centre for Humanitarian Demining (GICHD)

Division

Ammunition management advisory team

Unit

Standards and Trainings

E-mail

a.bernard(at)gichd.org

Working Languages

French and English