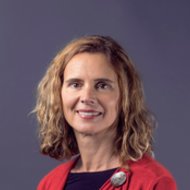 Head of Inclusive Risk Reduction
Arianna Calza Bini joined the GICHD as Head of the Gender and Mine Action Programme (GMAP) division in March 2019. The division has recently changed name to Inclusive Risk Reduction to better reflect the two main areas of work:
to promote gender equality and inclusion and reinforce gender and diversity mainstreaming capacities for EORR responses that are effective, inclusive, sustainable and locally-led; document impact; conduct global outreach; and
to advance Explosive Ordnance Risk Education's (EORE) efficiency and effectiveness and raise the profile of EORE globally through policy and technical assistance at the national, regional and global levels.
The IRR division also collaborates with the other divisions at the Centre to ensure that its two thematic areas strengthen and complement all of the other areas of work, especially at the country level. Prior to joining the GICHD, Arianna headed the Gender and Mine Action Programme as an independent organization for ten years. Under her leadership GMAP became the reference for advice and technical assistance on gender mainstreaming in mine action. Previously she was Programme Manager and Gender Advisor at the EU Delegation to Brazil; Gender and Poverty Officer at the UNDP Country Office in El Salvador; Junior Expert and Gender Focal Point at the EU Delegation to Central America in Costa Rica. Arianna Calza Bini holds an MPhil in Development Studies from the Institute of Development Studies, Sussex, UK, and an advanced university degree in Economics from the University of Rome, Italy.
Division

Head of Inclusive Risk Reduction

Unit

Head of Division

E-mail

a.calza-bini(at)gichd.org

Working Languages

English, Italian, Spanish, French, Portuguese and Swedish