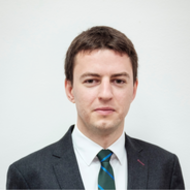 Strategies, Performance and Impact
Yevhen Avramenko joined the GICHD in April 2023 and holds the position of Ukraine Country Programme Coordinator. In this role, he coordinates delivery of targeted and sequenced support to Ukrainian National Mine Action authorities and other relevant stakeholders working in Ukraine. He overviews programmed thematic activities, and acts as country programme focal point.
Prior to joining the GICHD, Yevhen Avramenko managed the Organization for Security and Co-peration in Europe (OSCE) mine action portfolio in Ukraine. He also worked in project management in areas of rule of law, education and immigration in Canada, Vietnam and Ukraine.
Yevhen Avramenko holds an MA in International Studies from the University of Wyoming and a Masters in Political Geography/Geopolitics from Kyiv National Taras Shevchenko University.
Division

Strategies, Performance and Impact

Unit

Country Programmes

Working Languages

English, Ukrainian