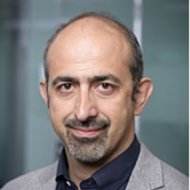 Information management
Sulaiman Mukahhal joined the GICHD Information Management Division in January 2016 as Information Management Advisor with a focus on mobile IMSMA applications. He is coordinating the development of the Mine Action Reporting System (MARS) as well as providing oversight to related developments. He is also the country focal point for support to Arabic-speaking users in the Middle East and North Africa.
Prior to joining GICHD, Sulaiman Mukahhal worked with different humanitarian missions focusing on supporting relief and mine actions efforts in conflict and post conflict zones. He has been involved in numerous assessment initiatives and investigative missions, and over the last few years he has been extremely active in efforts to integrate information management and technology best practice in advocacy of optimized operational performance and reporting in the humanitarian context.
Sulaiman Mukahhal holds a BSc in Computer Science from Applied Science University (ASU) in Jordan and is a certified PMP.
Division

Information management

Unit

Team Members

E-mail

s.mukahhal(at)gichd.org

Working Languages

Arabic, English, Russian