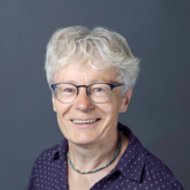 People & Culture
Elena Daiber joined the GICHD in February 2007. As Administrative Assistant she is responsible for the maintenance of information resources on the intranet and for a range of logistic and administrative duties.
Prior to joining the GICHD, Elena Daiber worked in the Post Office in Geneva. Originally trained as a pharmacist, she worked in a Geneva pharmacy for several years.
Elena Daiber completed the Federal Vocational Education and Training in commerce and earned the related professional certificate.
Organisation

Geneva International Centre for Humanitarian Demining (GICHD)

Division

People & Culture

Unit

Archives and Information

E-mail

e.daiber(at)gichd.org

Working Languages

English, French and German