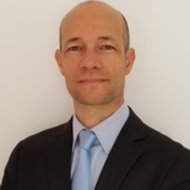 Finance
Frédéric Buxeraud joined the GICHD in November 2021 as Senior Finance Officer. In his role, he contributes to the implementation of finance & accounting functions. He is also in charge of the data management processes including the reinforcement of financial risk detections and practices.
Frédéric Buxeraud has twenty years of international experience within the private sector where he developed his skills in accounting and cost accounting. He started his career in a well-known audit firm in Luxembourg and prior to joining the GICHD he worked fifteen years in the aviation industry where he managed and organized the accounting, administration and human resources department.
Frédéric Buxeraud holds a Master's in finance & accounting as well as a tax Certification in VAT & Corporate taxes from the Luxembourg Chamber of commerce.
Organisation

Geneva International Centre for Humanitarian Demining (GICHD)

Division

Finance

Unit

Other Division Members

E-mail

f.buxeraud(at)gichd.org

Working Languages

French and English